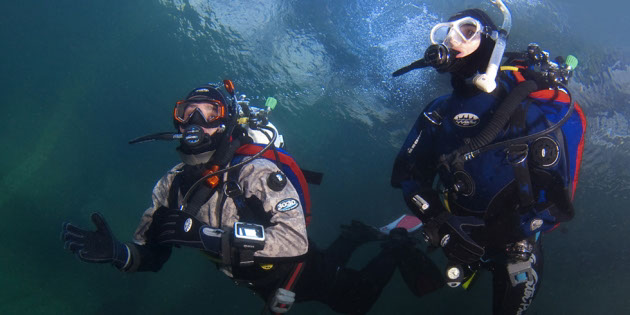 The first step on the professional ladder. In this program you expand your dive knowledge and hone your skills to the professional level. This 'internship' can last for weeks or months and will see the student immersed in the running of a dive operation. This is the apprenticeship that starts all dive professional on their way. Becoming a Divemaster Trainee (DMT) is actually a very exciting and enjoyable time ….. you will never enjoy 'school' so much !
Be certified as a PADI Advanced Open Water Diver and PADI Rescue Diver or equivalent
18 years old
Logged 40 scuba dives
Completed EFR Primary and Secondary Care training
Medically evaluated and cleared for diving by a physician within 12 months
The program consists of 3 sections
1. THEORY
Theory development includes knowledge reviews, lectures and two exams. Lectures are given daily and cover the topics of Physics,Physiology, Decompression Theory, Equipment, and Environment. Unlike any other dive centre, we offer EVERY lecture EVERY week, which creates a great deal of flexibility for the dive masters in training in their scheduling.
2. WATER SKILLS DEVELOPMENT
Learning how to manage logistics as a DMT at Ban's, will ensure that you have the skills needed to work for any dive operation worldwide. The responsibilities of a working Divemaster are vast and vary from one location to another – so we've decided to offer training in all areas. One important role of a DM is to offer certified divers guided tours of the local dive sites, and to refresh diving skills to those who have been out of the water for a long period of time. General fitness, the ability to anticipate and respond to problems, and to conduct Divemaster programs independently are also a common function of the DM.
 IN ORDER TO PREPARE IN THESE AREAS, TRAINING INCLUDES:
400m swim/800m snorkel/100m tired diver tow/15min tread/rescue assessment/equipment exchange
Multiple skill circuits to improve demonstration quality and problem solving
Workshops in Scuba Review in Confined Water, Skin Diver Course and Snorkeling Supervision, Discover Scuba Diving Program, Discover Local Diving)
Practical skills such as Dive Site set up and Management, Mapping, Dive Briefing, Search and Recovery and Deep Diving
3. PRACTICAL ASSESSMENT WITH STUDENT DIVERS
Many use the unlimited diving given to candidates enrolled in the program, to prepare for the IDC. Koh Tao is one of the world's top destinations for Instructor Training. For this reason all of the Divemaster candidates are asked to assist on a minimum of two full Open Water Courses, two full Advanced Courses, and one full rescue course. During this portion of the program DMT's are encouraged to develop their teaching skills, improve their feedback techniques and strengthen problem solving abilities. Most individuals find this portion of the course incredibly rewarding.