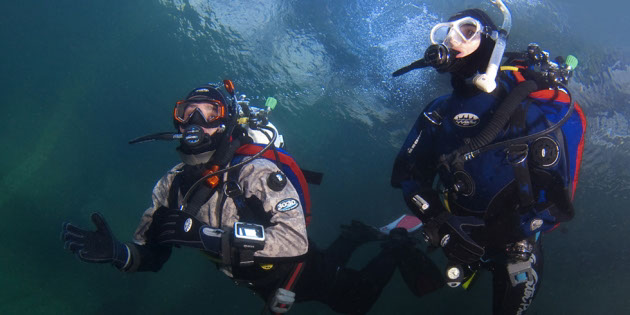 The first step on the professional ladder. Becoming a DMT (Divemaster Trainee) is unlike any other dive training course because you have to become a part of the team. Although still 'a customer' you will be responding to the requirements of 'our other customers' and assisting qualified dive staff in various capacities.
It should be looked on as an apprenticeship aimed at expanding your dive knowledge and introducing the skills needed to progress to the professional level. Length of training depends on each candidate, however 4 weeks is seen as an absolute minimum and most of our courses last 8-12 weeks. Prices also vary but if you have all the prerequsites our packages start at 45,000 THB.
We have 'staff accommodation' rates and we guarantee your program will see you training on both our day trip and live-aboardoperations. In addition you will work as a snorkel guide and under go retail sales training. We are not a factory and add these extra elements to ensure our Divemasters fully understand the business of diving and what is expected of a dive professional.
Becoming a DMT with S7SC is also a lot of fun. All of our senior staff are very experienced, long-term employees and we always have a mixed bag of dive pro's from all over the globe, all have been DMT's themselves and all will ensure you get the best training and have a good time.
BEFORE YOU CAN START DIVEMASTER TRAINING YOU MUST HAVE ALREADY:
Be certified as a PADI Advanced Open Water Diver and PADI Rescue Diver or equivalent
Be 18 years old
Logged 60 scuba dives
Completed EFR Primary and Secondary Care training
Be medically evaluated and cleared for diving by a physician within 12 months
If you are a novice diver without the course qualifications or the 60 logged dives we can put a special package together to get you up to speed quickly.
The program splits into 2 main areas;
1.Theory - Gaining a greater understanding of diving. This not only helps your development as a diver, it also has practical implications in areas such understanding why safety protocols are observed.
2. Skills - Not just the physical and logistical skills needed to work on onland or at sea for a dive operation, but also the personal skills needed to work within a dive team and to communicate with customers. This includes lots of diving!
THEORY
Theory development is a main factor, however the learning curve is easy and we do not work to a rigid timetable. You will have to study and complete training knowledge reviews, lectures and two exams. Do not be worried about the academic side too much, we have all the training aids and experience to ensure your success.
Lectures include: physics, physiology, decompression theory, equipment, and the dive environment.
You will also receive retail and equipment sales training (few operators offer this valuable addition).
SKILLS DEVELOPMENT
Managing logistics and guiding divers form the major part of the DMT program. We will show you the skills needed to work for any dive operation worldwide. As a working Divemaster you will be expected to take the lion share of the work preparing for each trip, whilst supporting instructors in a variety of tasks once onboard. Factor in the attitude needed to give paying divers a great day out yet still remain in control and you can begin to understand the depth of training needed to succeed.
 WHAT CAN YOU DO TO PREPARE:
Do some fitness. You will be required to complete a 400m swim, 800m snorkel and a 100m tired diver tow. The carrying of various equipment, although not exessive, is frequent.
Review your previous dive materials, be revised when you arrive.
New skills will include underwater mapping, so familarise yourself with a compass.